Connect with like minded.
Join our events, network and mingle with like-minded people and get your hands on experience in workshops! 
Stay informed about the latest events with our newsletter:
1th Feb 2020
Let's celebrate the International Day of Women and Girls in Science together with Fossil.
If you are female between the ages of 18 – 26, take the opportunity to collaborate with us. Create a concept for a FOSSIL SMARTWATCH app with the theme "Created by Women for Women".
20th Feb 2020 –
18:30 – 21:30
It is often said, that Artificial Intelligence (AI) positively transforms almost every sector from medicine to urban planning, but it also brings questionable or even dangerous implications with it.
This event will take a deeper look into the dark side of AI, from deep fakes to killer robots. Furthermore, it aims to also portray and discuss possible solutions.
9th March 2020
Bring your voice to four future dialogues to shake up the workplace where Team leaders, HR leaders, C-suit, individuals, NGOs, government leaders, startups, students and academia meet, sit at the same table and leave with an action plan.
1st of April 2020
Are you looking for a career start or want to move into tech? Are you already working in tech and want to explore opportunities in the industry?
Join our Talent meets Tech – Speed Interviewing Event and get to know exciting companies! Application for our next events is already open.Before we head into autumn, let's celebrate the last days of summer together and enjoy a drink or two, network and talk about your careers in tech! Stay tuned for the summer drinks by Girls in Tech Switzerland in Zurich.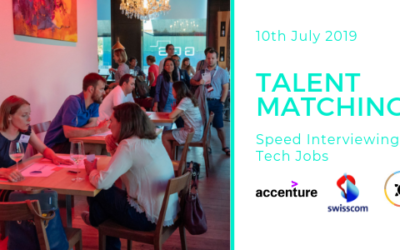 In July, we held another Talent meets Tech - Speed INterviewing event at WeSpace in Zurich. Accenture, Digitec Galaxus and Swisscom were meeting 9 candidates, eager to take the next step in their tech career and meeting recruiters. The event was once more a full...